The "Other" Heflin Children:  SHORTY the PIMP and PICKLES too!

A few years back Shorty (The Pimp) joined the family.  It is estimated that Shorty is about 6 to 7 years old. He was rescued by some friends of Land and Erica's down in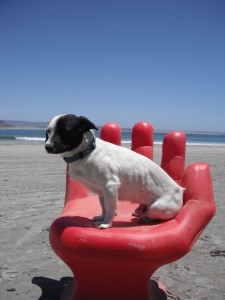 Baja.  Shorty was found by the side of the road, hanging out with his friend, a donkey.  He had a broken back-end, was starving and and suffering from mange. Shorty the Pimp, does indeed "walk with limp" permanently, but he is a survivor and quite a character. After spending some time with Shorty in Baja, the Heflins decided to bring him back to the U.S. to find a good home….and indeed a good home was found.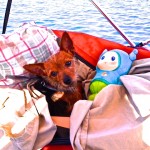 Pickles entered the Heflin scene more recently. She is a rescue, finding her way to a shelter in Thompson Falls, Montana via a shelter in Idaho. Prior to "doing time" in Idaho, Pickles was in a shelter located in California.  Pickles was "saved" from being euthanized and rode in a Cessna plane from California to Idaho with many other dogs being transported to a no-kill shelter. Pickles has balanced out the household, she is very affectionate and certainly a little pistol. Shorty and Griffin both have an amazingly tolerant and loving playmate.
Constantly offering unconditional love, the Heflin doggies are a large part of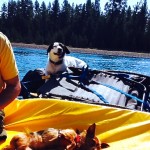 Land, Erica and Griffin's daily life. They created a calming and comforting affect and their presence is greatly appreciated.  Though neither would be considered  a "water dog"fortunately both Shorty and Pickles enjoy rafting (and duckying) down mellow sections of river and camping.