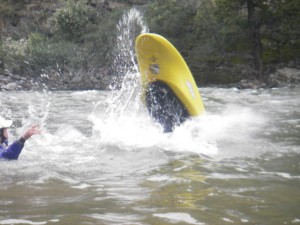 We offer private raft floats along with private hard-shell kayaking and inflatable-kayaking  instruction. Whether you are looking for a fun day rafting or a day of private kayaking and instruction, we have you covered. Based in Missoula, MT we have access to some of the best rivers in the country.  We can assist the aspiring beginner with the basics or a veteran paddler looking to take it to next level on the river.  Contact us for more information.
Private Raft Float:
(Approximately 6 hours)
$600 per raft – up to 6 people
Kayak instruction (hard-shell or inflatable):
(Approximately 6 hours)
1 person: $350
2 people: $420 total or $210 per person
3 people: $480 total or $160 per person
4 people: $520 total or $130 per person
Kayak Pricing includes:
-Kayak, paddle and spray-skirt rental (if needed)
Both Rafting and Kayaking Pricing includes
-Additional gear needed such as PDFs/life-vests and, if needed,  helmets, splash-jacket and booties
-One shuttle-vehicle/instructor transportation to/from instruction/float site within a 60-mile radius of Missoula, MT.
*In most cases participants will need a vehicle for personal transportation and shuttle purposes unless other arrangements have been specified
*Please request your equipment and gear needs a least one month prior to instruction date.
*Please provide height, weight and size (S, M, L or X-L) of all participants requesting rentals.