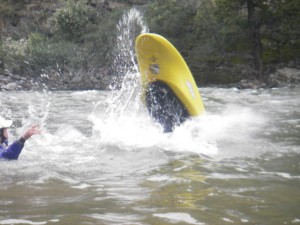 Private instruction and small group instruction are effective ways to achieve your kayaking goals. Based in Missoula, MT we have access to some of the best whitewater in the country and allows us to design a personalized paddling experience. Whether you are an aspiring beginner and want the basics, or a veteran paddler looking to take it to next level, we can design a program to accommodate your every need. Contact us for more information.
Full-day instruction: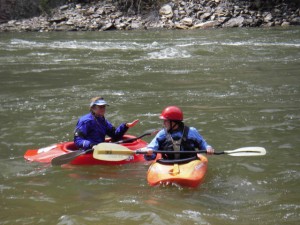 (Generally 6-8 hours)
1 person: $240
2 people: $350 total or $175 per person
3 people: $375 total or $125 per person
4 people: $400 total or $100 per person
Pricing includes:
-Kayak, paddle and spray-skirt rental if needed.
-Additional gear needed such as helmets, PFD/life-vest, splash-jacket, booties will be provided free of charge.
-One shuttle-vehicle/instructor transportation to/from instruction side within a 60-mile radius of Missoula, MT.
*In most cases participants will need a vehicle for personal transportation and shuttle purposes unless other arrangements have been specified
*Please request your equipment and gear needs prior to instruction date.
*Please provide height, weight and size (S, M, L or X-L) of all participants requesting rentals.